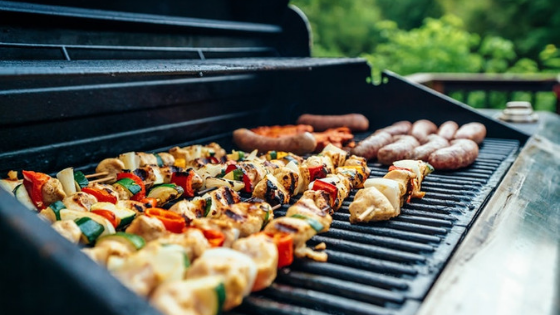 Sure, your apartment at the Gramercy on the Park might have a fine indoor kitchen with plenty of modern appliances to cook with and countertop space to prepare upon. However, when the weather is pretty and your friends are over, why wouldn't you want to cook and eat outdoors? Grilling outside turns food preparation and cooking into more of a social event. Plus, at our Dallas, Texas apartments, residents can enjoy a complete outdoor kitchen with stainless-steel grills overlooking a courtyard and pool area. It's a beautiful and useful space and, with the following delicious grilling recipes, you can take full advantage of it.
4 Grilling Treats to Try Out This Spring & Summer
Negima Yakitori. Love spices? Then you'll love this very savory Japanese grilled chicken recipe. This a tender and juicy way of cooking chicken with each piece threaded onto a skewer between sections of scallions.
Shredded Grilled Tilapia Tacos. Looking to be a bit healthier this year? Then this is certainly a recipe you must try, especially if you feel like having a taco and tequila night poolside! Instead of tilapia, you might also try the same recipe with ahi tuna.
Grilled Pizza with Steak, Pear, and Arugula. Pear, you say. Yes. Pear. The pear adds a perfectly nice sweet tang to this otherwise savory pizza dish. Note, however, this pizza will cook fast on a grill so when it comes time to throw it on, be fast and be ready to enjoy this delicious finger-friendly entree.
Grilled Oysters with a Sriracha Lime Butter. What Texan hasn't gone to a grill where Gulf Coast oysters were featured as the main dish? There will always be a special place on the southern menu for oysters, shrimp, and all things seafood and thus no must-try grill list would be complete without an oyster recipe. Check out this one featuring a spicy citrus butter that really highlights the oyster taste.
Have Questions About Using the Grill or Other Outdoor Amenities? Contact Our Front Staff
Our front staff at Gramercy at Park is here to ensure you get the most out of all the amenities included as part of your residency at our Dallas apartments. So if you have any questions about using the grill or other outdoor amenities, don't hesitate to visit our front office or give us a call!