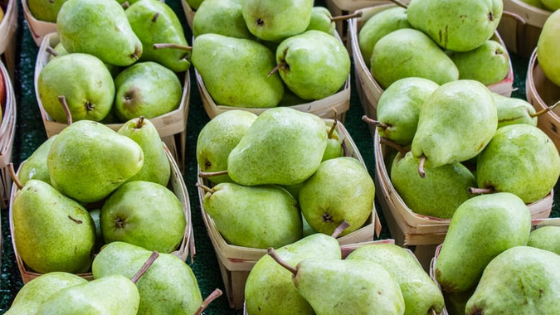 When it comes to health and wellness, many of the residents of our Dallas, TX, apartments know how to do nutrition the right way. Many people in our community do their very best to ensure they're eating what they're supposed to be and giving their bodies all the good things necessary to perform at their best. With this in mind, we thought this would be a good time to feature a little known thing called fiber.
Fiber is found in many different foods, including fruits, vegetables, beans, and legumes. Its job is to keep humans' digestive tracts working properly so nothing gets stuck in the gut. It's a vitally important part of the food pyramid, but many people don't get enough fiber in their diets because they simply don't know-how. Let's take a look at a few creative ways you can boost your fiber intake.
1. Pears
Pears are an excellent source of fiber, and because they're naturally sweet and juicy, you won't feel like you're punishing yourself just because you're trying to add more fiber to your diet. If you don't want to eat them all by themselves, add them atop salads, poach them with wine sauce or pair them with a nice pork tenderloin.
2. Strawberries
Strawberries are nature's answer to junk food. With their incredibly delicious flavor, they work well in hundreds of different dishes. Start your day with a strawberry smoothie or grab a handful of raw berries when the mid-afternoon hunger pangs begin to knock on your belly. As an added bonus, smoothies made with yogurt will give you an extra-special boost of belly-friendly bacteria.
3. Artichokes
Who doesn't love a grilled artichoke on a hot summer day? These fiber-packed plants are actually so fibrous that the tips of the leaves can't be eaten. However, when you get to the fleshy, sweet part of the leaf that begs for you to play with your food, the wait for the perfect artichoke becomes well-worth it. Instead of eating popcorn or chips while you're binging on Netflix, reach for an artichoke or two ‒ it will keep you occupied for several episodes.
If you're looking for an apartment community that believes in doing the best by its residents, you've come to the right place! With a 24-hour health and fitness center, Gramercy on the Park Apartments is proud to contribute to the health and wellness of our residents. Check out our other outstanding amenities!