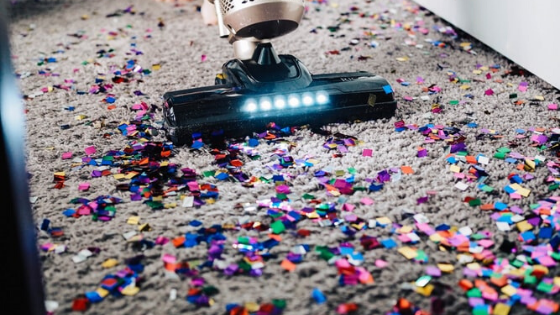 Many of our community members at Gramercy on the Park North Dallas apartments enjoy entertaining friends and family for the holidays. Along with the festivities, a bit of mess might follow, so we offer these five easy cleaning tips after the last bit of confetti and good cheer subsides.
Ditch Unwanted Gifts
The fact is that so many of us get unwanted holiday gifts — or those we just cannot use — but the sentiment can keep on giving if we just forward them along to someone else. If you get gift tags that allow for returns or exchanges, awesome. If not, consider a local charity that might find the need for those extra items, so you don't have to clean around them.
Deal With Holiday Cards
Holiday cards add up quickly if you have a large circle, so you can use them to create crafts, recycle them, or save the most precious notes. One of the easiest components of post-holiday clean up by far is getting these small reminders out of the way so the deeper cleaning can begin.
Tidy Up Guest Rooms
Did anyone decide to stay the night in a guest room? After tending to the kitchen and living room spaces, the guest room will likely need a good cleaning. Wash the sheets, vacuum and do a light dusting to sanitize the area and be prepared for your next guest.
Remove Holiday Lights
If lights are adorning the windows of your Dallas apartment, getting all those pesky wires out of the way will streamline the cleaning process. Decide if you want to save them for next year, and store them or donate them appropriately.
Tree Take-Down and Removal
Once New Year's Day has come and gone, your holiday tree is likely ready to be stored or disposed of. Be sure to find out about the neighborhood rules for curbside pickup for trees if you have a live one, as this is typically a free service to Dallas residents.
Find a New Home for the New Year at Our Apartments in Dallas
Gramercy on the Park is a comfortable community with an array of amenities and friendly neighbors. Contact us today to find out more about life in our Dallas, TX apartments.